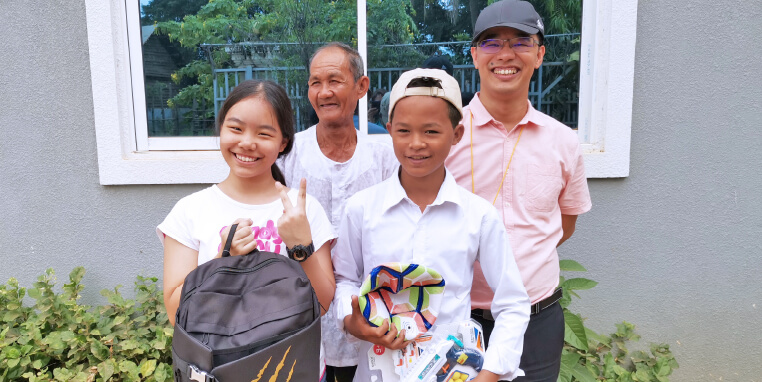 Nuy was very happy when TC (in peach) and Gwen presented him with a soccer ball.
While mothers and daughters often bond over shared interests, fathers can be left out, particularly when they spend much of their time working. In December 2019, 43-year-old Koay Thean Chuan (TC) and his 14-year-old daughter Gwen spent meaningful time together when they visited Stong 2, Cambodia as part of our Parent-Child Sponsors' Visit.
"Gwen and I were ecstatic because we would finally meet my sponsored child Nuy, who is around Gwen's age. Since I started sponsoring him in 2015, he has sent us letters every year. Gwen always takes delight in them. We brought Nuy gifts, spent time with him, and learned that his parents had to work abroad."
During the visit, the pair caught a glimpse of Nuy's world. "We learned about the struggles Nuy's community faces, such as a shortage of clean water. World Vision has worked with the community to build a water treatment plant and taught them how to maintain it. I am glad that Nuy now has access to clean drinking water and can grow up healthy and strong!"
Perhaps it was seeing children walk barefoot on the hot ground, or watching them patiently wait their turn to use the limited colour pencils that compelled TC to help 10 children find sponsors. "Despite their circumstances, the children and communities were full of appreciation for World Vision and their sponsors. Gwen and I have learned to be content with what we have, and want to continue helping vulnerable children," said TC.
TC's father certainly played a role in this decision. "From a young age, my father taught me to give because a little help can make those who need it believe that there is hope for the future," added TC.
The COVID-19 pandemic increases risks to vulnerable children and their families, threatening their futures. In Cambodia, World Vision is raising awareness of COVID-19 and has provided emergency food and hygiene kits to those who need it most.